UNIQUE GONG BY GOVINDA TIWARI - MCE® Professional Designed - Flower of Life and flower of Tree with powerful mantras in English and Sanskrit - Giant Size (60 cm, 23.5 Inch)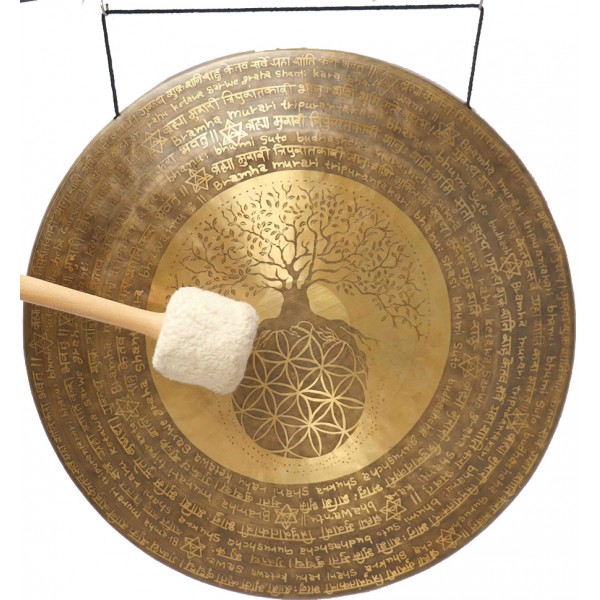 Gongs are the musical instrument which is used for healing our mind and body.It has round tone where loud and resonant sound can be heard.These Gongs are of different types such as Planetary,Theraputic,Musical etc which gives different sensation of sound with plain and curved with many mantras in it.They are made up of Bronze and Brass.They are manufactured in many of the countries such as Nepal, China, Korea, Tibet, Philipines etc.
Magical Creation's best quality therapeutic and musical GONGS are to achieve deeper relaxation and inner harmony. This GONG is handmade in Nepal by experienced master craftsmen according to ancient knowledge. All the special (Modern Musical, Planetary, Universal sound, brain waves, solfeggio scales etc) category GONG are exactly analyzed in Magical Creation Sound Lab Studio (MCE) by experienced and professional Musicians.
We have Planetory,Musical and Normal Gongs,if you are intrested to buy our Gongs then we would be glad.We can provide you individual as well as Wholesale.Their price depends according to their Qualities,Designed or plain and their weight.
Views: 575
Brand: MCE®
Product Code:

GN-61

Availability:

2
Name: Fine carving, Standard, professional gong MCE® Professional Designed
Size: Giant
Product net weight: 4780 gm, 10.53 pound (app)
Product net diameter: 60 cm / 23.5 Inch (app)
Product color: Brown and Dim Yellow
Product type: Fine carving, Standard, professional gong
Decoration: Flower of Life and Tree with mantra in English and Sanskriti

Tags: MCE Professional New Designed Fine carving, Standard, professional gong (Written mantra in Sanskrit and English language)