VAJRA MEDITATION INCENSE (Dhupaya), Rope Himalayan Herbal Incense, from nepal (10 cm, 3.9 inch)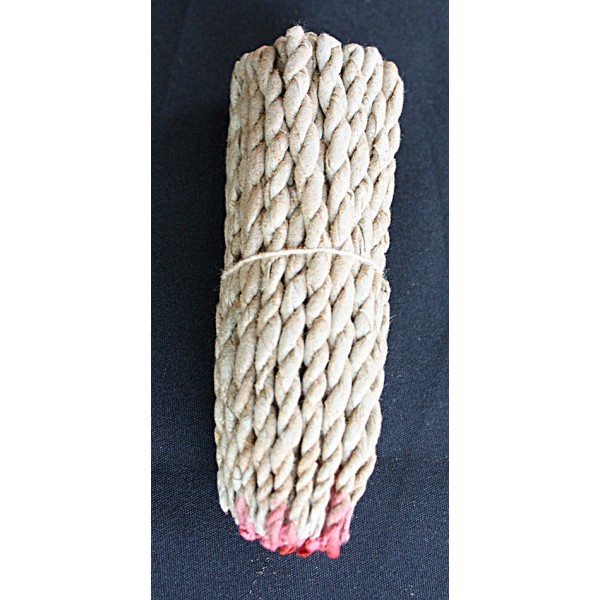 This is a Traditional Newari Incense called Dhupaya. It is made by traditionally with many different precious Aromatic himalayan herbs. The finely Powdered form of the herbs wrapped in the thin strip of lokta Paper & twined forminf stick callde Dhupaya (Incense). The Smoke issuing out of the burnt Vajra Meditation Incense is belived to attract the god and hence it has been put to an extensive use specially in the religious fields both by hindus and Buddhists . The spiritual aspirants burns the incense while meditation in order to hold the mind focused on the object of attention. Light and Stick from the thicker end and laid down on the incense burner (Metal or Stone made). it is nontoxic and non addictive.
Coupon offer
Congratulations! For each 100 USD purchase from our store You will get 5 USD DISCOUNT COUPON which will be reduced for your next order with us. Please claim your special DISCOUNT COUPON in your next order. We request you to including your previous ordere/purchase number from us to unlock your DISCOUNT COUPON.
Views: 342
Product Code:

INC-17

Availability:

200
Name: Vajra Meditation Incense (Dhupaya) ROPE Himalaya Pure Herbal Nepali Incense
Product net length: 10 cm, 3.9 inch (app)
Product net weight: 20 gm, 0.04 pound (app)

Gross shipping weight (after packing) will be more than product net weight.

Note: Order of more than 25 pieces of same products or more than 50 kg (net product weight) of all the products together, we consider you as wholesaler. In this situation please email us before you check out. We will provide you special cargo or courier rates and also can manage different colors, sizes, designs, styles etc accoring to your desire within 2-3 weeks.
Tags: Tibetan Incense, Pure Himalayan Incense, Hand Rolled Incense, Herbal Incense, Natural Smell Incese, Herbal Sticks from Nepal.