SOFT FELT Mallet (Drumstick/Singing Bowl Stick) to play singing bowls essential - Extra Small Size (23*4 cm, 9*1.5 inch)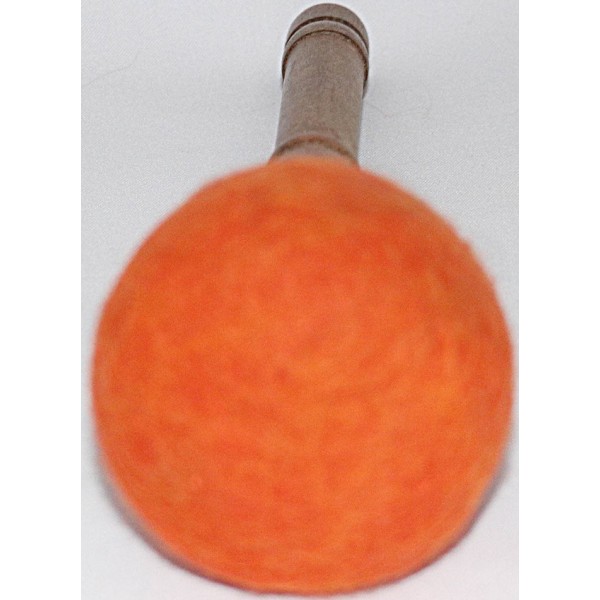 Drumsticks/Mallets are locally made in Nepal and available in varying sizes and densities of different felt head. It is important to use the appropriate mallet according to the size of the bowl and to acchive desired sound effects. Hard felt and rope felt mallets bring higher pitched frequencies while soft felt mallets bring lower frequencies and are thus also recommended to play gongs. MCE standard mallets are specially designed with a specific felt head which is neither too hard nor too soft to bring out the most vibrant sounds and vibrations. MCE standard mallets are recommended for use in sound therapies with singing bowls. Double headed mallets are specially designed for use in therapies and offer the possibility of having two different head sizes in one mallet.
Handles of mallets are of beech wood, Tic wood or can be also of different woods and available in standard design or with a specific design by MCE (GT design) for a better grip and handling of mallets during sound therapies. We also can provide modified or new design according to clients wish if neeed in quantity.
Coupon offer
Congratulations! For each 100 USD purchase from our store You will get 5 USD DISCOUNT COUPON which will be reduced for your next order with us. Please claim your special DISCOUNT COUPON in your next order. We request you to including your previous ordere/purchase number from us to unlock your DISCOUNT COUPON.
Views: 521
Product Code:

MLB-SA2S-R01

Availability:

99
14.00€
Ex Tax: 14.00€
Price in reward points: 5
Name: SOFT FELT Mallet (Drumstick/Singing Bowl Stick) for Singing Bowl
Size: Extra Small
Product net weight: 60 gm, 0.13 pound (app)
Product head net diameter: 4 cm, 1.5 inch (app)
Product net length: 23 cm, 9 inch (app)
Product head color: Available in Rainbow Color
Product type: Felt

Gross shipping weight (after packing) will be more than product net weight.

Note: Order of more than 20 pieces of same products or more than 50 kg (net product weight) of all the products together, we consider you as wholesaler. In this situation please email us before you check out. We will provide you special cargo or courier rates and also can manage different colors, sizes, designs, styles etc accoring to your desire within 3-4 weeks.
Tags: Singing Bowl Accessories, Cushion, Mallets, Leather Stick, Protection Bag