MEDICINE BUDDHA, Pure Himalayan Herbal incense, sticks from Nepal - Hard box (20.5 cm, 8.07 inch)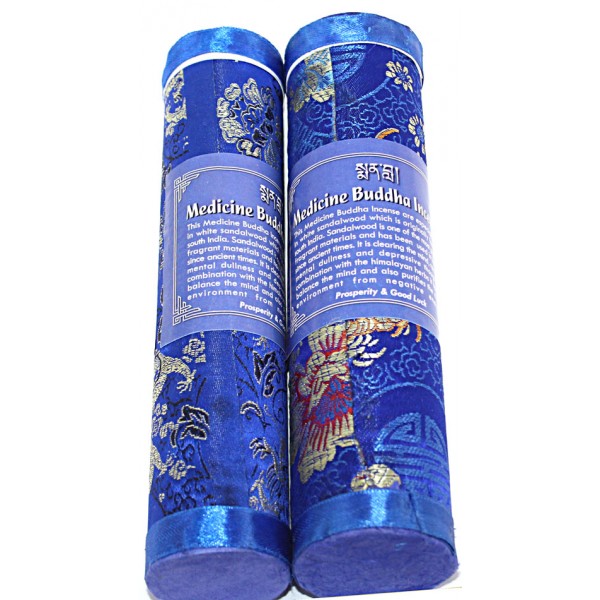 The medition Buddha incense are specially rich in whte sandalwood which is originally found in south india. Sandalwood is one of the most precious fragrant materials and has been used in incense since ancient times. It is clearing the mind, removing mental dullness and depressive thoughts. In combination with the himalayan herbs it helps to balance the mind and also purifies the air and environment and from negative energies.
Coupon offer
Congratulations! For each 100 USD purchase from our store You will get 5 USD DISCOUNT COUPON which will be reduced for your next order with us. Please claim your special DISCOUNT COUPON in your next order. We request you to including your previous ordere/purchase number from us to unlock your DISCOUNT COUPON.
Views: 380
Product Code:

INC-1

Availability:

200
Name: MEDICINE BUDDHA Himalaya Pure Herbal Nepali Incense
Product net length: 20.5 cm, 8.07 inch (app)
Product net weight: 104 gm, 0.22 pound (app)
Box Color: Blue

Gross shipping weight (after packing) will be more than product net weight.

Note: Order of more than 25 pieces of same products or more than 50 kg (net product weight) of all the products together, we consider you as wholesaler. In this situation please email us before you check out. We will provide you special cargo or courier rates and also can manage different colors, sizes, designs, styles etc accoring to your desire within 2-3 weeks.
Tags: Tibetan Incense, Pure Himalayan Incense, Hand Rolled Incense, Herbal Incense, Natural Smell Incese, Herbal Sticks from Nepal.