2nd Level Planetary, Therapeutic Singing bowl Healing course in Latvia, 28-29 June 2020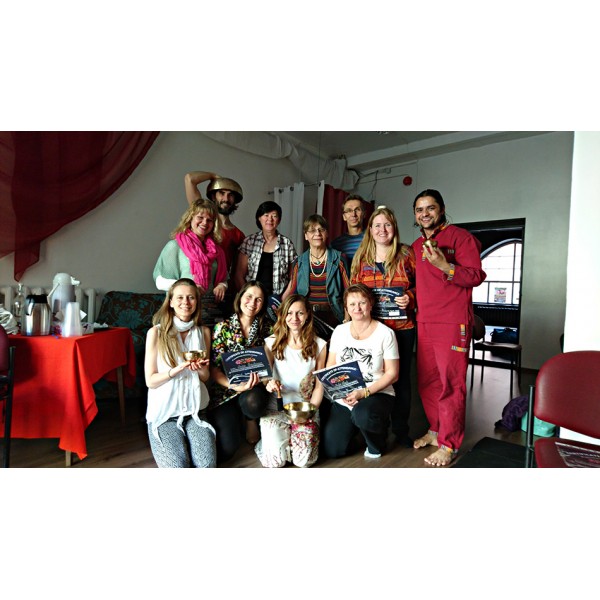 Date and Place: Lilaste Latvia
Fee: 250 Euro
What benefit will you obtain from this Course?
» You will understand the difference between tuned (based on precise analysis) Himalayan singing bowls (planetary) and normal singing bowls (ornaments).
» You will learn about the use of planetary Himalayan singing bowls and accessories, their healing properties and connection with the solar and universal system.
» You will understand about the planetary properties of Himalayan singing bowls and your ruling, friendly and enemy planets.
» You will be able to use correctly and in a professional way Himalayan singing bowls and other instruments for your own benefits.
And more specifically: How to use and play singing bowls, bells and Tingshaws in a correct way;
The various methods of Sound& Hertz therapy;
How to produce sounds effectively according to bowls and accessories;
The importance of using these techniques correctly;
Healing properties & possible treatments;
Self-practice and practice on each other (group);
Videos of the process of manufacturing singing bowls and current scientific studies (optional);
Combination of Mantras with sound and vibration healing (optional);
2 DAYS PROFESSIONAL WORKSHOP - SECOND LEVEL
• 7 bowls of birth and childhood trauma-removing therapy,
• 8 bowls of inner harmony therapy
• 10 bowls of children / youth handling therapy
How can you use acquired knowledge?
You can apply learnt techniques to your friends, family and yourself, and more particularly provide some relief to children, senior, handicapped, disabled persons; You can use learnt techniques in a professional way and start working with clients.
This workshop is intended
o For those who are interested to learn about Himalayan singing bowls, their amazing healing properties and healing methods (sound / hertz therapy);
o For those who want to be introduced to basic to advance features of 'sound / hertz therapy';
o For those who plan to work professionally in the field of 'Sound / hertz therapy' with the use of planetary Himalayan singing bowls.
About the teacher: Govinda Prasad Tiwari was born in Nepal, in a small hilly village nested in the shadow of the Himalayan Mountains. Blessed to have grown up in an amazingly rich natural environment, in the lap of traditional Brahmin farmer family, Govinda was raised to gain great knowledge of self-awareness from harsh realities of the daily life in rural parts of Nepal. Since his childhood, Govinda has been playing music: Nepali folk music, devotional hymns (Bhajans/kirtans), dance, Satsang (spiritual discussions) or reading Veda (ancient books) were among the only means of entertainment at that time.
Govinda's father was a Brahmin respected in the village for his deep knowledge of vedic traditions and other spiritual teachings. The family's home was a kind of ashram (spiritual school) where villagers, visitors, Saddhus and Mahatmas (sages) and other ascetics would often gather and share their experiences, and perform with spiritual activities and rituals. This natural and spiritual environment nurtured Govinda's soul and was determinant in his connection with universal energies.
Govinda's major subject was music and his early professional years were dedicated to the Nepalese music industry as a full-fledged professional Musician and Singer. Throughout the years, Govinda became a renowned national artist (author/lyricist, composer, singer, musical instruments player). He further expanded his professional experience as a Sound Engineer in the arrangement of musical compositions and recordings. In early 2000's, Govinda established two main companies involved in the creation, production and distribution of songs and music, mostly in Nepal and in the tourism industry whose specialty is to propose unique travel experiences and amazing spiritual adventures, which include retreats in various locations of Nepal and Tibet.
Besides his professional activities, Govinda pursued his spiritual path with retreats and spiritual teachings in various ashrams in Nepal and India. In 2008, Govinda was first introduced to the planetary Himalayan singing bowls with Swiss Master Jean-Daniel Isenschmied during a mission in Nepal to search for singing bowls with specific planetary properties. Based on his experience as a Musician and Sound Engineer, Govinda created a laboratory in Kathmandu (Nepal) to measure and analyze frequencies and other properties of singing bowls.
Since then, Govinda could benefit from the deep knowledge and teachings of his Swiss Master. Govinda's initiation was further strengthened with courses and teachings from renown therapists and healers: Gong Master Don Conreaux (USA) well known masters of (Nepal), Peter and Emily Hess (Germany), Suranna, (Slovenia), Angelo (Portugal).
These days, Govinda dedicates his time and energy to combine all these teachings, to apply them, to test them with physical reality and scientific evidences and to share his acquired knowledge to wider audience.
WITH SIMPLICITY, TRUTH, LOVE AND TRUST.
For direct contact: www.larena.lv/apmacibas/himalayan-singing-bowls-works