First level Professional Planetary, Therapeutic Singing bowl sound Therapy 13-14 July 2019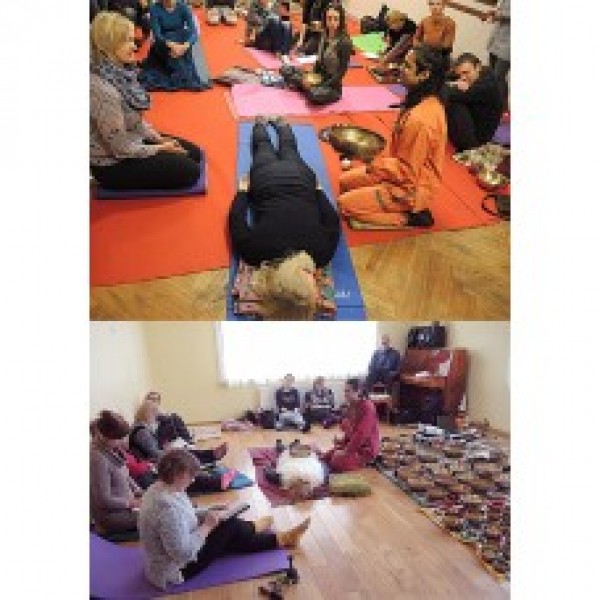 Plans: PSB Second level course
July - 13th and 14th
Fees: 190 Euro for early booking until 2 weeks before, then 225 Euro
Place/Centre : Labo sajūtu laboratorija
Address: Brīvības gatve 214b, 504., Riga, Latvia


What benefit will you obtain from this Course?
» You will understand the difference between tuned (based on precise analysis) Himalayan singing bowls (planetary) and normal singing bowls (ornaments).
» You will learn about the use of planetary Himalayan singing bowls and accessories, their healing properties and connection with the solar and universal system.
» You will understand about the planetary properties of Himalayan singing bowls and your ruling, friendly and enemy planets.
» You will be able to use correctly and in a professional way Himalayan singing bowls and other instruments for your own benefits.
And more specifically:
How to use and play singing bowls, bells and Tingshaws in a correct way,
The various methods of Sound & Hertz therapy,
How to produce sounds effectively according to bowls and accessories;
The importance of using these techniques correctly;
How to produce sounds effectively according to bowls and accessories;
Healing properties & possible treatments;
Self-practice and practice on each other (group);
Videos of the process of manufacturing singing bowls and current scientific studies; (optional);
Combination of Mantras with sound and vibration healing (optional);

2 DAYS PROFESSIONAL WORKSHOP –FIRST LEVEL
• 3 Planetary bowls - Softening, digestion and connectivity Therapy
• 4 Planetary bowls - Inner meditation Therapy
• 6 Planetary bowls - Neck and Back pain removing Therapy

• We will also revise the FD workshop few techniques if we can manage time. How can you use acquired knowledge?

You can apply learnt techniques to your friends, family and yourself, and more particularly provide some relief to children, senior, handicapped, disabled persons;
You can use learnt techniques in a professional way and start working with clients;
This workshop is intended o For those who are interested to learn about Himalayan singing bowls, their amazing healing properties and healing methods (sound / hertz therapy);
o For those who want to be introduced to basic to advance features of 'sound / hertz therapy'
o For those who plan to work professionally in the field of 'Sound / hertz therapy' with the use of planetary Himalayan singing bowls;

We are looking for a collaborator and business partner in every countries. Please e-mail us if you are interest. Its beneficial for all the parties.

WITH SIMPLICITY, TRUTH, LOVE AND TRUST.
Govinda Pd. Tiwari.

Find the latest updates on our facebook page
https://www.facebook.com/magicalsingingbowls

If you need further information about the teacher, please find in below link:
https://www.magicalsingingbowls.com/planetary-gongs-singing-bowls-course/govinda-tiwari-planetary-sound-healing-master