First level Professional Planetary, Therapeutic Singing bowl sound Therapy 28th -29th September 2019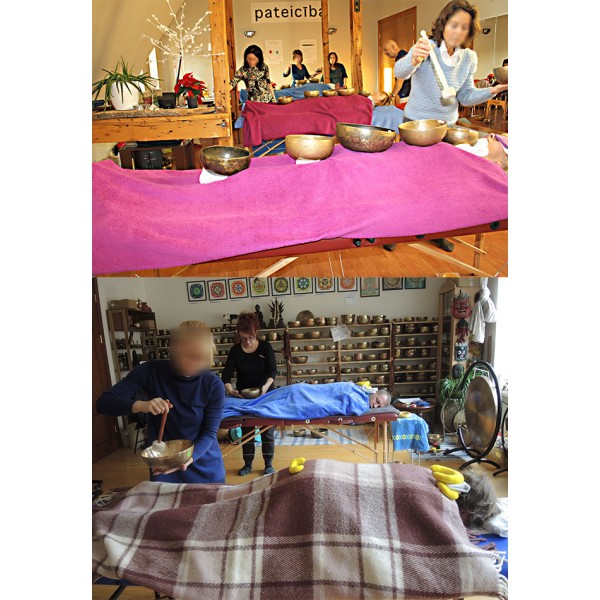 Plans: Cours Thérapie Sonore Bols Planétaires – Niveau 1
Septembre 28-29
Frais de participation: 300 CHF
Place/Centre :Espace Holisynergie
Adresse: La Chaux-de-Fonds, Switzerland

Que pouvez-vous apprendre de ce cours?

» Vous comprendrez la différence entre les bols chantants himalayens (planétaires) et les bols chantants normaux (ornementaux ou décoratifs).
» Vous apprendrez sur l'utilisation des bols et accessoires et techniques de thérapies sonores avec bols chantants planétaires de l'Himalaya, leurs propriétés curatives et leur connexion avec le système solaire et universel.
» Vous comprendrez les propriétés planétaires des bols chantants himalayens et vos planètes dirigeantes, amicales et ennemies.
» Vous serez en mesure d'utiliser correctement et d'une manière professionnelle les bols chantants et autres instruments pour vos propres avantages.

Et plus particulièrement:
Comment utiliser et jouer les bols chantants, cloches et Tingshaws d'une manière correcte,
Les différentes méthodes de thérapie sonore et Hertz,
Comment produire les sons efficacement selon les bols et accessoires;
L'importance d'utiliser correctement ces techniques;
Propriétés curatives et traitements possibles;
L'auto-pratique et la pratique les uns sur les autres (groupe);
Vidéos du processus de fabrication des bols chantants et des études scientifiques en cours; (facultatif);
Combinaison de mantras avec guérison du son et des vibrations (facultatif);

2 JOURS COURS PROFESSIONNEL DE THERAPIE SONORE – NIVEAU 1
• 3 Bols planétaires – Thérapie relaxation, digestion et connectivité
• 4 bols planétaires - Thérapie de méditation intérieure
• 6 Bols planétaires – Thérapie pour soulager douleurs au cou et au dos

Si le temps le permet, nous réviserons également brièvement les techniques enseignées durant l'atelier découverte.

Comment pouvez-vous utiliser les connaissances acquises?
Vous pouvez appliquer les techniques apprises sur vos amis, votre famille et vous-même, et plus particulièrement apporter un certain soulagement aux enfants, aux personnes âgées, et aux personnes handicappées;
Vous pouvez utiliser les techniques apprises d'une manière professionnelle et commencer à travailler avec des clients;

Cet atelier est destiné à o Pour ceux qui sont intéressés à en apprendre davantage sur les bols chantants de l'Himalaya, leurs propriétés de guérison étonnantes et les méthodes de guérison (son / thérapie hertz);
o Pour ceux qui veulent être introduits aux techniques essentielles et fondamentales et les caractéristiques de «son / thérapie hertz'
o Pour ceux qui envisagent de travailler professionnellement dans le domaine de la «thérapie son / hertz» avec l'utilisation de bols de chant planétaires de l'Himalaya;

Nous cherchons à collaborer avec des partenaires dans tous les pays. N'hésitez pas à nous contacter si vous êtes intéressé(e).

AVEC SIMPLICITE, VERITE, AMOUR ET CONFIANCE
Govinda Pd. Tiwari.

Retrouvez les dernières mises à jour sur notre page facebook
https://www.facebook.com/magicalsingingbowls

Si vous avez besoin d'informations supplémentaires sur l'enseignant, veuillez trouver le lien ci-dessous:
https://www.magicalsingingbowls.com/planetary-gongs-singing-bowls-course/govinda-tiwari-planetary-sound-healing-master



Duration: 2 days
Date: September 28th and 29th
Fees: 300 CHF
Organizer: L'espace Holisynergie (Catherine Châtelain)
Address: Rue de l'Est 28, 2300 La Chaux-de-Fonds

What benefit will you obtain from this Course?
» You will understand the difference between tuned (based on precise analysis) Himalayan singing bowls (planetary) and normal singing bowls (ornaments).
» You will learn about the use of planetary Himalayan singing bowls and accessories, their healing properties and connection with the solar and universal system.
» You will understand about the planetary properties of Himalayan singing bowls and your ruling, friendly and enemy planets.
» You will be able to use correctly and in a professional way Himalayan singing bowls and other instruments for your own benefits.

And more specifically:
How to use and play singing bowls, bells and Tingshaws in a correct way,
The various methods of Sound & Hertz therapy,
How to produce sounds effectively according to bowls and accessories;
The importance of using these techniques correctly;
How to produce sounds effectively according to bowls and accessories;
Healing properties & possible treatments;
Self-practice and practice on each other (group);
Videos of the process of manufacturing singing bowls and current scientific studies; (optional);
Combination of Mantras with sound and vibration healing (optional);

2 DAYS PROFESSIONAL WORKSHOP PLAN FOR FIRST LEVEL TRAINING
• Softening, all the types digestion and connectivity 3 Planetary bowls Therapy
• Interior Journey with 4 Planetary Singing bowls
• 
Back and neck pain with 6 planetary Singing bowls

If we can manage we also plan to revise following techniques:
• Aura cleaning' with 1 planetary bowl.
• Vision cleaning and self-tuning techniques with 1 planetary bowl
• Head massage treatment for headaches with 1 planetary bowl
• Back pain treatment with 1 planetary bowl

How can you use acquired knowledge?
You can apply learnt techniques to your friends, family and yourself, and more particularly provide some relief to children, senior, handicapped, disabled persons;
You can use learnt techniques in a professional way and start working with clients;
This workshop is intended
o For those who are interested to learn about Himalayan singing bowls, their amazing healing properties and healing methods (sound / hertz therapy);
o For those who want to be introduced to basic to advance features of 'sound / hertz therapy'
o For those who plan to work professionally in the field of 'Sound / hertz therapy' with the use of planetary Himalayan singing bowls;

We are looking for a collaborator and business partner in every countries. Please e-mail us if you are interest. Its beneficial for all the parties.


WITH SIMPLICITY, TRUTH, LOVE AND TRUST.
Govinda Pd. Tiwari.


Find the latest updates on our facebook page
https://www.facebook.com/magicalsingingbowls

If you need further information about the teacher, please find in below link:
https://www.magicalsingingbowls.com/planetary-gongs-singing-bowls-course/govinda-tiwari-planetary-sound-healing-master